Wise as serpents or naïve as doves? WEA defends why it co-sponsored a UN human rights forum organized by the Islamic Republic, after accusations of legitimizing a persecutor.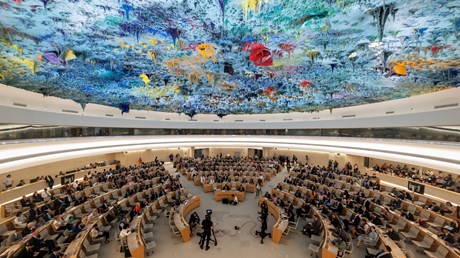 Last June, the World Evangelical Alliance (WEA) received a peculiar invitation. On the sidelines of the 53rd meeting of the United Nation's Human Rights Council (HRC) in Geneva, the government of Iran organized a forum entitled "The Role of Religions in Promoting Human Rights."
The WEA was the only Christian group invited.
Upon its acceptance, the alliance—representing 600 million evangelicals—under UN protocol became an official forum co-sponsor with the Islamic Republic, designated by the United States as a state sponsor of terrorism since 1984.
Ranked No. 8 on Open Doors' World Watch List (WWL) of the 50 nations where Christians experience the most persecution, Iran also partnered on the event with Pakistan, ranked No. 7 (both are considered "severe" offenders). Another co-sponsor was the Organization of Islamic Cooperation; 35 of its 57 members rank on the watchlist.
The intersection of topics, however, secured the participation of the HRC itself, the Office of the UN High Commissioner for Human Rights, and the Geneva School of Diplomacy. The official title of the WEA presentation was diplomatically bland: "Harnessing the immense potential of religions in cultivating pluralistic societal cohesion and global peace."
But behind the scenes, Iran wanted something different.
"They asked us to explain: What can evangelicals contribute to the good of society?" said Thomas Schirrmacher, WEA secretary general. "I would have a bad conscience if we did not use such opportunities to testify in the court of the world."
American critics of the UN, however, believe "kangaroo" is this court's most suitable adjective. One month after President …