How Florida's Brenda Carter decided to spend 30 years of her life serving the Hakka people in Taiwan.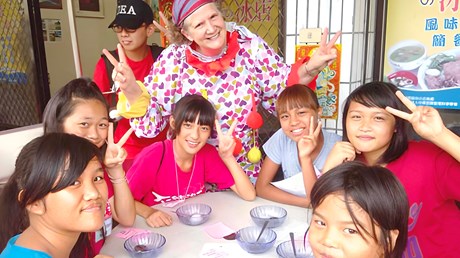 Deep in the countryside of Miaoli County, Taiwan, Brenda Carter has lived among the Hakka people for more than 30 years. Part of the Chinese Han population, the Hakka trace their lineage back to northern China. Their name is a nod to their migration south and can be translated as "guest worker" or "sojourner." The four million Hakka in Taiwan make up about 15 percent of the country's population.
A native of Florida, Carter describes her role in the community as a "matchmaker," a title she uses intentionally—as well as non-traditionally.
"I am not here as a preacher. I am here as a matchmaker. The job of a matchmaker is to introduce two people, giving them a chance to get to know each other and build a relationship. But the matchmaker cannot force them," said Carter. "I came to give people the opportunity to get to know the God who created and loves them, to build a beautiful relationship with God."
In the past, some Hakka people traditionally lived in tulou, which are large, circular residences often three to four stories high. Multiple generations lived within a unit and the largest could hold up to 800 people.
"The Hakka community is like their tulou buildings. To protect themselves, there are very few windows facing outward, and it is difficult for outsiders to fight their way in," she said. "But rather than saying the Hakka community is hard soil for the gospel, perhaps we ought to say that they are a neglected community."
A love of the people
Carter first came to Taiwan in 1986 and spent two years teaching alongside numerous foreign missionaries at Christ 's College Taipei. But her heart was for those the school was not already …