Six months after disaster, the biblical Dorcas raised from the dead by Peter inspires Protestant generosity—just as she modeled for the early church.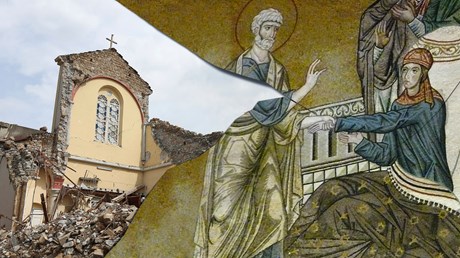 Exhausted and emotionally spent at the end of a full week surveying the damage from Turkey's massive earthquake last February, Ali Kalkandelen needed hope. As chairman of his nation's Association of Protestant Churches (TeK), he felt the weight of responsibility to help his colleagues in 27 affected congregations.
Eventually, he found a template for moving forward in the biblical figure of Tabitha.
Scattered over 11 cities in a geographic area the size of England, local Turkish Christian leaders had already launched into service, supported by the larger body of 186 affiliated churches with aid, funds, and volunteers.
Kalkandelen set out from Istanbul, encouraging colleagues in Antakya, Adiyaman, and three other cities. He traversed ruined highways, lamented collapsed buildings, and tried to take stock of the task of relief.
Last on his list was Kahramanmaraş, for a personal visit. His father's home had been destroyed, and he went to check in on his many relatives there.
And there in the rubble flitted a small piece of paper.
Upon inspection it was a page from a Turkish Bible, from 2 Corinthians 1. He read verse 3-4: Praise be to … the God of all comfort, who comforts us in all our troubles, so that we can comfort those in any trouble.
The slip of paper was all the more moving because, among the population of half a million people, the city had no church and no known Christians.
"I read it with my wife, and we started weeping," said Kalkandelen. "God was talking to his church in Turkey."
Six months later, alongside trauma counseling and spiritual care, TeK provided 7,500 tents, 27,000 outfits of clothing, and over one million meals to those displaced by the earthquake. And to compensate …