The crowdfunded show received approval writers' and actors' unions to wrap on Season 4.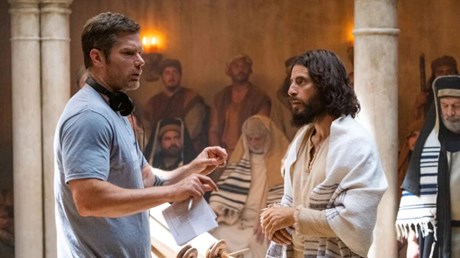 The wildly popular series based on the life of Jesus Christ has crossed what its creator dubbed a "Red Sea Moment" after a labor strike threatened to halt the filming for Season 4 of The Chosen.
On Friday (July 14), director and co-writer Dallas Jenkins sent an email telling viewers The Chosen hadn't yet received an exemption to continue filming during the strike by the Screen Actors Guild-American Federation of Television and Radio Artists. "This is very expensive, unfortunately, and especially frustrating because we've only got two weeks of filming left. Let's pray we can get back on schedule quickly."
Jenkins also tagged SAG-AFTRA in an Instagram post, urging the labor union to approve an exemption waiver. "We're the good guys; we've treated your actors well. Please take the few minutes to approve our application so your actors can get back to work getting paid for the last two weeks of a season they want to finish."
After one day of filming without the cast, on Sunday afternoon, the show's official Twitter account announced it had been approved for a waiver and would resume filming on Monday. The account also noted Season 4 is "entirely independent and 100% funded by donations."
"We've worked hard to accommodate all of SAG's requests and their interim agreement. We appreciate their recognition of us as an independent as well as their hard work in this process," Jenkins said in a statement provided to Religion News Service.
The Chosen was able to secure an exemption to continue filming because it is not affiliated with the Alliance of Motion Picture and Television Producers, the group representing studios such as Netflix, …