"Unless Jesus returns we face a catastrophic future."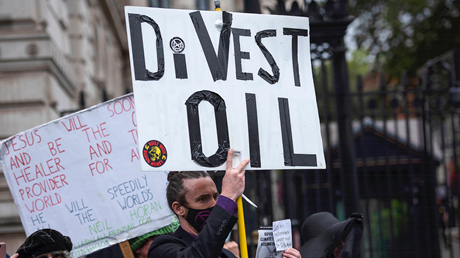 Sometimes, late at night, when her kids have gone to bed and Eleanor Getson is doing the dishes, she is hit with an almost crippling fear.
"Glaciers melting. Islands of plastic in the Pacific Ocean. Forest fires wiping out millennia of history," said Getson, a 40-year-old evangelical living in Bradford, England, with her husband and two boys. "I can't stop scrolling through stories about climate change. … It's too much to think about, and I get this anxiety about what my children will suffer because of us."
That's why Getson was delighted to hear the news that the Church of England, which she grew up in, has made the momentous decision to divest from fossil fuels. Last month, the Anglican Church Commissioners and Pensions Board announced its decision to pull all financial investments from gas and oil companies because of the way burning fossil fuels is driving climate change.
Pressure on the Church of England to divest from fossil fuel companies has been building for several years, as an increasing number of clergy, bishops, and dioceses have made divestment commitments and called for fossil-free pension schemes.
Among them have been evangelicals bringing their own distinctive arguments and motivations to the campaign. For years, evangelically inclined organizations like Operation Noah, Tearfund, United Society Partners in the Gospel (USPG) and Christian Aid have been calling for the Church of England to fully divest from fossil fuel companies
Ruth Valerio, director of advocacy and influencing at Tearfund, a Christian relief and development organization based in the UK, told CT that the church has a huge role in calling on policies and practices that do not harm the natural world, …