The city some dismiss as "The Swamp" is fertile ground for evangelicals.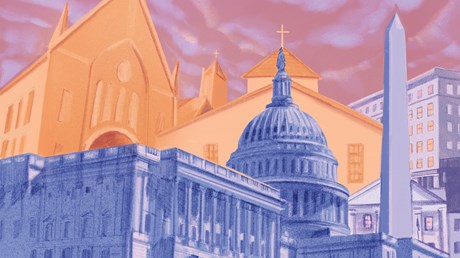 The District Church could be a Baptist church. The lead pastor, after all, grew up as a Southern Baptist missionary kid and still has a lot of ties to that denomination.
It could also be Anglican, with the way it leans into liturgy and the church calendar. Or a social justice church, with its focus on the inequality so visible in Washington, DC, or charismatic, with its emphasis on prayer and sensitivity to the Spirit.
Instead, the church is a little bit of all these things. It is nondenominational, pulling together different Christian streams to minister effectively to the young white professionals who have moved to work in the capital, as well as the upwardly mobile Nigerians and South Koreans who've emigrated to the seat of the United States government.
"The strength of being nondenominational is there are fewer barriers," said Aaron Graham, who planted the church with his wife, Amy, 13 years ago. "It allows you to lead with a brand that is more city-focused and seeker-focused. We respond to the questions people are asking. 'Do you believe in God? Do you believe in the Bible? Do you believe God is at work in the world today?'"
Nondenominational churches like The District Church have been multiplying across America, according to the 2020 US Religion Census. Their numbers today dwarf the mainline churches that once dominated American public life. There are six times more nondenominational churches than there are Episcopal congregations, and five times more than Presbyterian Church (USA). If nondenominational were a denomination, it would even be larger than the Southern Baptist Convention, the largest denomination in the US.
The popular image of these churches skews suburban. People …