Gandhi wanted Christians to live more like Jesus. "God's smuggler" showed me how.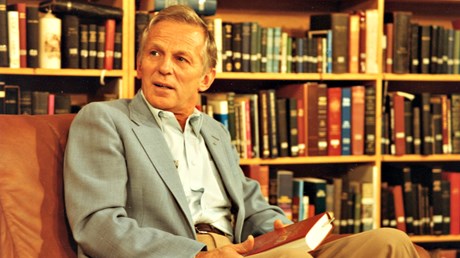 "You must change your thinking," Brother Andrew told me when we first met.
He was responding to my "rockstar" reaction as I finally encountered one of my heroes, at a lunch buffet in South Asia in 2000. Like a super-fan, I had blurted out, "I never thought I would meet you." His response was swift, on point, and left me pondering.
That was the man: simple, straight-forward, and leaving a large impression. Dressed in a T-shirt and shorts, Brother Andrew listened intently as I recounted my story of how his life had inspired my own journey into Christian ministry.
It was the first of many meetings I was privileged to have with him over the following 15 years. Each committed to my journal and fresh in my memory, even as I process the news that this mighty man of God has gone to be with his maker whom he loved and served, never wavering from the call to "strengthen what remains and is about to die" (Rev. 3:2).
Brother Andrew was called by God as a young man to go into closed countries and to minister to the church where it was oppressed and lacked resources—especially Bibles. I remember hearing from him that anyone could do what he did, because the power of God was the same. He often said that God has called us to go with his gospel, and that all doors are open to the good news of Jesus Christ. He enshrined this in the name of the organization he founded: Open Doors.
What began as a Scripture distribution agency has now transformed into a massive international organization also involved in training, socioeconomic development, research, and advocacy across 60 nations. But its focus continues to be the persecuted Church.
I remember Brother Andrew asking us if there was any region …