An already/not yet psalm of unity.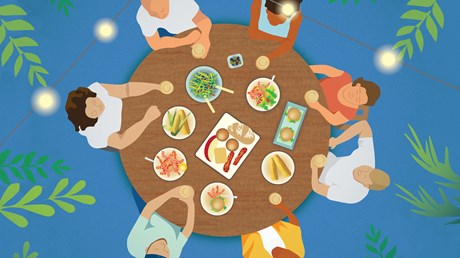 When Sandra McCracken and I sat down to write this song at The Porter's Gate gathering in January 2019, I had no idea what it would mean to me in 2021.
That gathering was a glorious pre-COVID-19 event, the kind I look back on now and wonder if we'll ever do again. I sat at small tables with artists, songwriters, and theologians from all over the world. We had rich conversation and ate delicious food. The group was diverse—culturally, theologically, and generationally—but there was a beautiful spirit throughout, as if everyone was eager to listen and learn from one another. I think many of us went home feeling like we'd tasted a bit of heaven.
The song Sandra and I wrote, based on Psalm 133, no doubt gathered its energy from the joyful experience of that weekend. "See how good it is gathering with friends, welcoming the stranger in. See how good it is!"
But Psalm 133 is one that, if you just picked up a Bible and started singing it, would very quickly mire you in confusing imagery. There's oil running down the beard and making a mess all over the clothes of some guy named Aaron. Yikes! Not the kind of lyrics that immediately bring tears to your eyes if you're an American reader like me. Yet as Sandra and I and several others at that Porter's Gate gathering discussed this psalm, it unfolded like a flower, revealing a glorious picture of the kingdom of God.
Turns out what we're viewing here is an ordination service. Aaron is being anointed as priest—one who is uniquely called to represent God's love to the world. But wait! This poem isn't about Aaron's ordination. It's about our ordination as priests of God to the hungry, lonely world …