Rashad Hussain, Obama's OIC envoy, would follow Sam Brownback if confirmed by Senate. Two USCIRF commissioners and antisemitism envoy also named.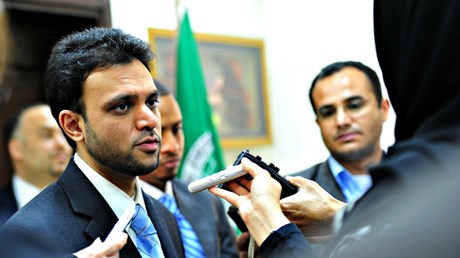 The White House announced Friday a slate of nominations and appointments for top religious affairs roles, including the first Muslim American nominated to be the US ambassador-at-large for international religious freedom (IRF).
President Joe Biden will select Rashad Hussain as his nominee for that post, filling a State Department slot vacant since former Kansas governor and US Senator Sam Brownback—who co-chaired a bipartisan IRF summit for 1,200 attendees this month—left at the close of the Trump administration. Hussain, who would need to be confirmed by the Senate, currently works as director for Partnerships and Global Engagement at the National Security Council.
He previously served as White House counsel under President Barack Obama, as well as US special envoy to the Organization of Islamic Cooperation and US special envoy for the Center for Strategic Counterterrorism Communications, among other roles.
"Rashad's appointment demonstrates not only the importance the Biden administration places on religious freedom," said Saeed Khan, an expert on American Muslim communities at Wayne State University, "it also shows the importance of the Muslim world to the administration both in terms of combatting Islamophobia and also promoting religious freedom in Muslim majority countries. Rashad's background will allow him to have a frank discussion with Muslim majority countries about the importance of religious freedom."
Anila Ali, a cofounder of the American Muslims and Multifaith Women's Empowerment Council Iftar who has worked with Hussain in the past, also celebrated his nomination.
"As AMMWEC, and as a woman leader, I look forward to working with him because women play …