Visiting Wayne Cordeiro and New Hope Church was our last big trip before shutdown.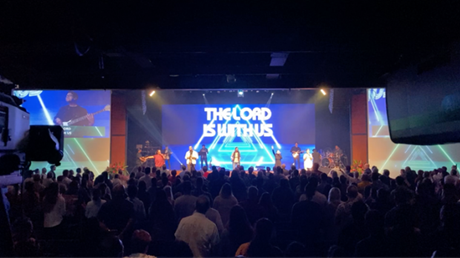 Of course, seeing these pictures now is a bit strange considering this was January of 2020. We already knew that the pandemic was starting to spread and was probably present in Hawaii.
My assigned topic that day was the people of Issachar, which basically meant I was focusing on the theme of how to know and engage our cultural context. I have noticed this is a recurring theme as a missiologist. We walked through that theme together in the service as shown below.
Let me observe a few things in the service that I thought were particularly interesting.
First, you can't help but notice the beauty of the diversity at the church.
It's of course made up of many native Hawaiians, but like much of Hawaii which is remarkably diverse, you see that diversity in the leadership and more.
Second, let me also mention that I found it interesting how they took time in the service to give specific thanksgiving for answered prayers and more.
Without giving names, they actually just shared on a big board and read out some of the prayer reports that were evident in the life of the church. Here's a picture of one of several worship services that I had the privilege of preaching in.
Also, they take time to pray for specific needs.
But what I thought also particularly interesting was just how much they focused on hospitality. Let me first say the hosting, as often is the case in cultures like this, was amazing and quite gracious. For example, you will see rows set aside for people from the outside. They were very welcoming as they read "Aloha."
Another example of their hospitality was when they put a lei on me. I asked the question, "Is that normal for outsiders or will that seem odd or patronizing if I wear that?" …