A gift from the Gideons was a good luck charm—and then something more.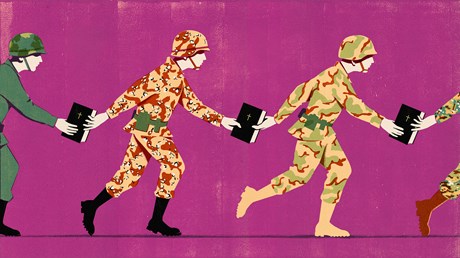 Jesse Maple first carried the Bible because his mother taught him to respect the Holy Book. Then he saw the Scripture as a kind of good luck charm. But soon enough, Maple saw it as evidence that God loved him and was with him in the jungles of Vietnam.
In all, seven US soldiers have carried that same small book since 1967. By 2019, they had brought it with them through 11 combat tours in five countries. For each of the men, the Bible was a source of comfort, an assurance of protection, and the promise of a fuller relationship with God. They carried the Scripture to keep them safe, but they found a deeper security inside its pages.
Physically, this Bible isn't much to look at. It's about five inches long and three inches wide, Maple estimates. It's the King James Version. It has a black leather cover, now well worn and torn at the edges, with the pages at risk of falling out.
"You wouldn't believe what that Bible has been through," Maple said.
He carried it through his tour in Vietnam. He was drafted into the Army at 19, a kid from West Lafayette, Ohio. He told CT he was living a wild and backslidden life at the time. But then a man with Gideons International gave him the Bible. His mother taught him to respect the Scripture, so he stuck it in his pocket and kept it there.
It was still with him during one intense firefight when bullets ripped through the pack on his back. They pierced a can of fruit but left him unharmed. Afterward, Maple was standing there, juice leaking on the ground, when a passing Catholic priest told him, "The Lord was with you today."
Maple immediately thought of the little Bible in his pocket.
According to religious studies professor Jonathan Ebel, soldiers' …