Full justice will come when Jesus returns. In the meantime, we fight for a "foretaste of glory divine."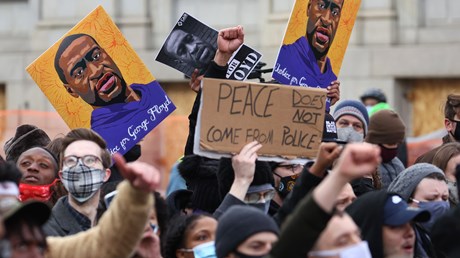 In the book of Romans, the apostle Paul tells Christians that "the whole creation has been groaning as in the pains of childbirth." He goes on to say that we "groan inwardly as we wait eagerly for our adoption to sonship, the redemption of our bodies" (8:22–23).
We African Americans understand this inward groaning—the discomfort of waiting for the full redemption of our physical selves. Like all creation, our bodies await renewal because they have borne pain and loss for far too long.
Some of our pain includes violent death at the hands of police officers or vigilantes who are intimidated by our presence and fire their guns, hang us from trees, pound us with their clubs, or crush us with their knees.
Former Minneapolis police officer Derek Chauvin didn't accept George Floyd's humanity but instead perceived his body as a threat. Chauvin ignored the onlooking crowd, who shouted at him to stop, and proceeded to drain the life out of Floyd over the course of nine and a half minutes.
The Minneapolis police officer was ostensibly fearful of a man who was already subdued and placed face-down on the ground. Because of the justice system's track record of accepting police brutality as a necessary part of the job, Chauvin relied on his badge to justify his actions.
Still now, so many Black and brown bodies groan because of the bullets or the pounding they take, even from those entrusted to protect and serve us. Yet even when we are not physically beaten, we still groan. We groan for many different reasons.
There is another cause for groaning in anticipation of redemption: Our bodies are decaying faster than those of our white counterparts. The COVID-19 pandemic highlighted the health …