Jon Tyson's celebration of joyful, countercultural faith offers a convicting heart check.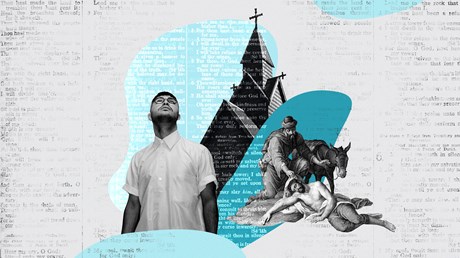 What voices are loudest in my life?
Last fall, I wrote this question on a sticky note and posted it near my desk as a reminder to examine who I'm listening to and what I'm being formed by. Between the endless streams of social media posts, the cacophony of podcasts and playlists, and the ever-expanding pile of books on my nightstand, I had no shortage of distractions from the voice of God in my life.
What we listen to forms us. The most persistent voices—including the quiet ones whispering lies we're too distracted to notice—can indelibly shape who we are, changing our thoughts, attitudes, and actions. We can say all the right words on Sundays and in small-group settings, but when the explicit spiritual agenda has been lifted, how do we live? Are we being shaped into the image of Christ or the image of the world?
In Beautiful Resistance: The Joy of Conviction in a Culture of Compromise, Jon Tyson, pastor of Church of the City New York, challenges believers—particularly those in the United States and other Western contexts—to resist the cultural syncretism of our age. Identifying heart postures, attitudes, and actions that our culture drives us toward, he leads us back to the countercultural, higher call of Christ.
What does it look like to live as a Christian in the world? What does it look like to model the way of Christ, moving beyond spiritual talk to actually walking as one shaped by the gospel? These are the underlying questions Tyson poses.
A Stirring Gospel
I came to Beautiful Resistance familiar with Tyson's teaching. I listen to Church of the City's sermon podcast on a near-weekly basis, and I appreciate how Tyson relates the gospel to our current moment, especially …