We need to bring intentionality to our gospel witness today.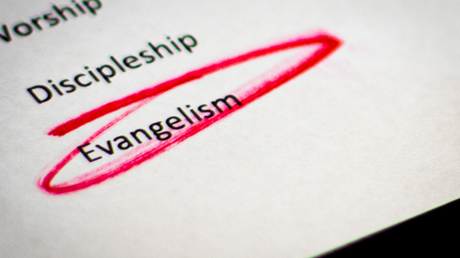 Evangelism has fallen out of style.
Sure, some of us are trying to keep it at the forefront of our churches' thinking, but stats don't lie: While 79% of unchurched people said they would engage in a faith conversation if asked, only 39% of Christians have shared how to accept Jesus in the past six months. That's a wide margin by any measure.
This means that over 60% of people are not telling our world about Jesus—even on an annual basis. This is a sad reality. Of all the activities in the church, evangelism is most likely to be neglected and thus, we actually do need to make it great again in a world which offers us so many competing priorities.
Both evangelism and social action are part of the mission of Jesus. Jesus came to serve the hurting (Luke 4:18ff) and save the lost (Luke 19:10). We do similarly as we join Jesus in that mission.
However, in almost every era, when Christians hold the values of gospel proclamation and gospel demonstration, it is proclamation that gets lost. So, I believe in what is often called "integral mission," but I also think we have to find a way to be sure that evangelism does not get lost.
And, in 2019, evangelism is getting lost.
I call this being an "integral prioritist." I love mission, social action, and discipleship. These are all good things — even essential things. But I have to find a way to prioritize the thing that gets lost— to prioritize evangelism. In 2019, we all need to consider how to be sure that evangelism does not get lost.
Historical intentionality
If we go back to the 1930s and 40s and look at the Wesleyan, Pentecostal, or Baptist traditions, Spring and Fall revivals were commonplace. These were intentional times where …