A new State Department report notes some "good news," like improving conditions in Uzbekistan, though the list of worst religious persecutors remains largely unchanged.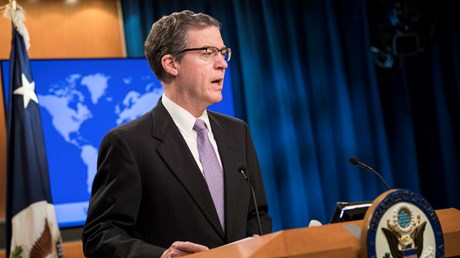 The US State Department is taking new steps to call out China as one of the world's worst violators of religious freedom. Last week, both Secretary of State Mike Pompeo and Ambassador-at-Large for Religious Freedom Sam Brownback rebuked the world's most-populous country for ramping up what Brownback called its "war on faith."
The latest Report on International Religious Freedom from the State Department's Office of International Religious Freedom (IRF), released last Friday, details the status of religious liberty in every country in the world other than the United States, elaborating on abuses in 10 countries of particular concern (CPC)—Burma, China, Eritrea, Iran, North Korea, Pakistan, Saudi Arabia, Sudan, Tajikistan, and Turkmenistan.
This year's report describes religious freedom issues in the country's mainland, Tibet, Macau, and Hong Kong, where longsuffering Christians have played a central role in recent pro-democracy protests.
It also includes a special section dedicated to China's malfeasance in Xinjiang, the autonomous northwestern province where between 800,000 and 2 million Uighur Muslims have been detained and, according to the report, subjected to "forced disappearance, torture, physical abuse, and prolonged detention without trial because of their religion and ethnicity."
"We've seen increasing Chinese government abuse of believers of nearly all faiths and from all parts of the mainland," said Brownback, who cited concerns over organ harvesting among Chinese prisoners of conscience, interference in Tibetan Buddhist and cultural practices, and Christian persecution.
"They've increased their repression of Christians, …