In the CW's take on the teenage witch, Satan is front and center.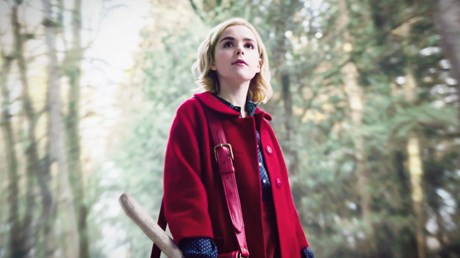 It has been two decades since the Harry Potter series emerged as a cultural phenomenon. When the story of the boy wizard who attends the Hogwarts School of Witchcraft and Wizardry began to dominate children's literature, evangelicals wondered if it was okay to allow their children to read the books.
As the series continued, however, it became increasingly clear that the mechanical nature of the magic practiced by Harry and his friends carried with it very little of the occult. Ultimately, Harry Potter seems more concerned with matters of the material world than the spiritual, despite the occasional contention with ghosts.
So for the majority of Christians, the question of whether or not Harry Potter was a sort of gateway drug for the harder stuff of real witchcraft fizzled into nothing. Evangelicals, just like everyone else, waited eagerly for each new book to be released, doing their part to enhance the series' sales, currently pegged at around 400 million copies.
Now a new generation is experiencing their own moment of cultural resurgence when it comes to wizardry and witchcraft. Only this time around, it doesn't seem quite so benign.
We're Not in 'Potter'ville Anymore
This fall, Netflix released The Chilling Adventures of Sabrina (with a bonus Christmas episode released in December). The series, which returns for a second season today, is based on the comic books published in 2014 by Archie Horror, which were a darker take on the character of the young witch Sabrina Spellman. Since first debuting in an Archie comic in 1962, Sabrina has made multiple appearances in various pop culture media, her fortunes rising and falling with the corresponding interest in the supernatural in pop culture. …