Sea Turtles Named for Some of This Year's Artists – Derby to Help Support Sea Turtle Research & Conservation
FOR IMMEDIATE RELEASE
FORT LAUDERDALE/DAVIE, Fla. – It's a match made on the beach!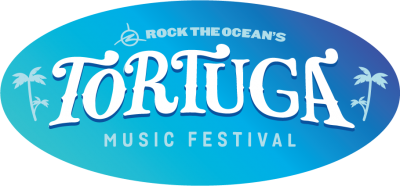 What could go together better than the annual Tortuga Music Festival and a fun way to help raise funds to further sea turtle research in Broward County? Thanks to the First Annual Sea Turtle Derby, festival goers and lovers of sea turtles can help support ongoing research by the Nova Southeastern University (NSU) and the Conservation, Movement and Ecosystem Dynamics Lab at NSU. 
Representing Rock The Ocean's Five Core Issues are a distinguished list of more than 30 worldwide leaders in ocean conservation that are hand selected and invited to share knowledge onsite at this year's festival. Conservation Village also allows attendees to enjoy games, interactive touch tanks, cooking exhibitions, the latest in ocean technology and speak with some of the top ocean conservation groups in the world. To find out more about each organization onsite this year, visit http://www.tortugamusicfestival.com/conservation/.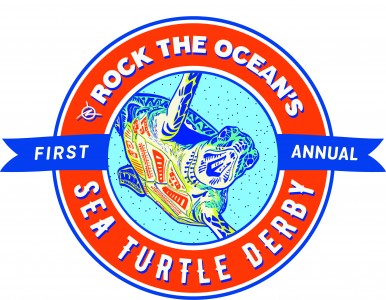 NSU has partnered with Rock The Ocean to kick-off to the first-ever interactive Sea Turtle Derby. This unique sea turtle "race" features six sea turtles named for some of the artists performing at this year's Tortuga Music Festival. To see which artists have turtles in the derby, visit the tracking website at TortugaMusicFestival.com/seaturtlederby.
You can watch the progress of each of the artists' turtle namesake as she makes her way through the seas. While the participating artists are both male and female, the turtles in the derby are all females because it's the mama turtles that are tagged on Broward's beaches after they lay their eggs – male turtles spend their lives at sea.
You can also get updates on social media with the hashtag #RaceToTortuga. The race is currently underway and will end at 6 p.m. Monday, April 8.
Turtle tracking isn't limited to the festival – sea turtle fans can visit turtletracking.org anytime to see all of the turtles NSU has fitted with a satellite tag.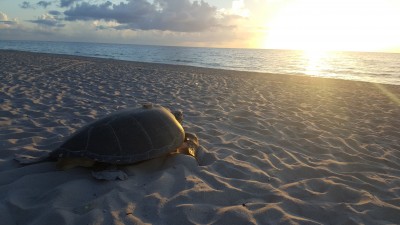 This "turtle-tastic" race is made possible via NSU researchers, who are  using cutting-edge technology, equipping mother sea turtles that come ashore to lay their eggs with a satellite tracking tag (or beacon) that allows the tracking of each turtle's movements after they leave Broward's shores. It's these "sat-tags" that allow the Sea Turtle Derby to track the paths of the six competing turtles – with the one that logs the most miles "winning" the derby.
What makes this fan-interactive is that people can donate toward their favorite artist's turtle, with their donation going toward sea turtle research and conservation.  Everyone who enters, donation or not, is entered to win the Grand Prize: two, 3-day festival passes and the chance to meet one of the headlining artists (Jason, Thomas or Kenny) performing at this year's event!.
"If you were ever looking for a win, win, win situation – this is it," said Derek Burkholder, Ph.D., a research scientist at Nova Southeastern University's (NSU) Halmos College of Natural Sciences. "It's the perfect tie-in – the Tortuga Music Festival, which takes place on Fort Lauderdale Beach and sea turtles, which also visit Fort Lauderdale Beach to lay the eggs of the next generation of turtles. This new derby is a great way to bring music, conservation and environmental awareness together."
Dr. Burkholder is also the Director of the Marine Environmental Education Center at the Carpenter House and the Broward County Sea Turtle Conservation Program as well as a research scientist at NSU's Guy Harvey Research Institute.
"We look forward to this weekend every year," said Chris Stacey, Founder of Rock The Ocean Foundation. "It's incredible to watch fans from all over come to the beaches of Fort Lauderdale to enjoy three days of music all while supporting a great cause. As the number of Tortuga attendees grows every year, we hope that same number of fans leaving Tortuga have a new-found awareness for the issues facing our oceans and an awareness of the steps they can take to protect them moving forward."
The three-day, newly three-stage festival continues to heighten excitement among fans as announcement of the Conservation Village follows news that Jason Aldean, Kenny Chesney and Thomas Rhett will headline this year's festival alongside Danielle Bradbery, Kane Brown, Sheryl Crow, Delta Rae, Lindsay Ell, Morgan Evans, Flo Rida, Chris Janson, Jillian Jacqueline, Joan Jett And The Blackhearts, Cody Johnson, Elle King, Dustin Lynch, Maddie & Tae, Midland, Maren Morris, David Lee Murphy, Carly Pearce, Cassadee Pope, RaeLynn, Michael Ray, Trombone Shorty, Mitchell Tenpenny, The Wailers and more will perform across the weekend.
Single-Day and Three-Day passes are available now at TortugaMusicFestival.com.
Media can apply for credentials by visiting www.tortugamusicfestival.com/press.
For more information and to join the conversation:
All sea turtle related research activities depicted or described were performed by authorized personnel on FWC MTP-255.
Be sure to sign up for NSU's RSS feed so you don't miss any of our news releases, guest editorials and other announcements. Please sign up HERE. You can also follow us on Twitter @NSUNews.
###
 About Nova Southeastern University (NSU): Located in beautiful Fort Lauderdale, Florida, NSU is ranked among U.S. News & World Report's Top 200 National Research Universities and is a dynamic, private research university providing high-quality educational and research programs at the undergraduate, graduate, and first-professional degree levels. Established in 1964, NSU now includes 16 colleges, the 215,000-square-foot Center for Collaborative Research, a private JK-12 grade school, the Mailman Segal Center for Human Development with specialists in Autism, the world-class NSU Art Museum Fort Lauderdale, and the Alvin Sherman Library, Research and Information Technology Center, which is Florida's largest public library. NSU has campuses in Fort Lauderdale, Fort Myers, Jacksonville, Miami, Miramar, Orlando, Palm Beach, and Tampa, Florida, as well as San Juan, Puerto Rico, while maintaining a presence online globally. Classified as a research university with "high research activity" by the Carnegie Foundation for the Advancement of Teaching, NSU is one of only 50 universities nationwide to also be awarded Carnegie's Community Engagement Classification, and is also the largest private institution in the United States that meets the U.S. Department of Education's criteria as a Hispanic-serving Institution. For more information, please visit www.nova.edu.
About NSU's Halmos College of Natural Sciences and Oceanography: The college provides high-quality undergraduate (bachelor's degree) and graduate (master's and doctoral degrees and certificates) education programs in a broad range of disciplines, including marine sciences, mathematics, biophysics, and chemistry. Researchers carry out innovative basic and applied research programs in coral reef biology, ecology, and geology; fish biology, ecology, and conservation; shark and billfish ecology; fisheries science; deep-sea organismal biology and ecology; invertebrate and vertebrate genomics, genetics, molecular ecology, and evolution; microbiology; biodiversity; observation and modeling of large-scale ocean circulation, coastal dynamics, and ocean atmosphere coupling; benthic habitat mapping; biodiversity; histology; and calcification. The college's newest building is the state-of-the-art Guy Harvey Oceanographic Center, an 86,000-square-foot structure filled with laboratories; offices; seminar rooms; an auditorium; and indoor and outdoor running sea water facilities. Please visit cnso.nova.edu for more information.
MEDIA CONTACTS
Joe Donzelli | Office of Media Relations
Nova Southeastern University
954-262-2159 (office) | 954-661-4571 (cell)
jdonzelli@nova.edu | www.nova.edu | @NSU_Joe
Kristie Sloan / Courtney Johanson
The GreenRoom
615-242-7444
kristie@thegreenroompr.com / courtney@thegreenroompr.com
---
---