The 2018 General Social Survey reports American evangelicals holding steady, and a surprising uptick for mainline Protestants.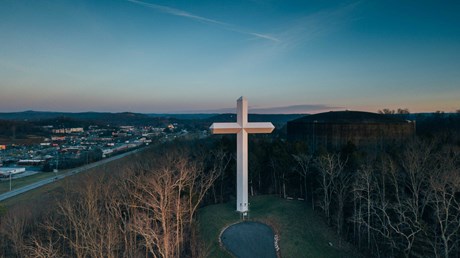 Evangelicals in the United States are holding steady at just under a quarter of the population, according to the latest biennial figures from the General Social Survey (GSS), one of the longest-running, consistent measures of religion in the US.
Despite the quick pace of news and week-to-week political polling, it's longitudinal tools like the GSS that give social scientists the best big-picture views of how America's religious landscape is shifting. The survey has asked about religious affiliation in the same way for over 46 years, offering authorative, reliable measures of trends in belief and behavior over time.
As Tobin Grant, editor of the Journal for the Scientific Study of Religion, pointed out: "Changes in religion are slow. No group gains or loses quickly." (The nones being an exception—gaining faster than other affiliations tend to beause they pull from multiple faith groups.)
That's mostly what the 2018 GSS results show us. Evangelicals—grouped in this survey by church affiliation—continue to make up around 22.5 percent of the population as they have for much of the past decade, while the nones, now up to 23.1 percent themselves, keep growing. (For comparison, Pew Research Center's 2014 Religious Landscape Survey put evangelicals at 25.4 percent and the religious nones at 22.8 percent.)
Other than one outlier—a slight peak of 24.7 percent in 2012—evangelicals have ranged from 22.5 percent to 24 percent of the population over the past 10 years. Still, this steadiness doesn't mean "no change" among the evangelical population. There is always a "churn" occurring within any religious group. People leave the group because of …