Pastors report the congregational gains of letting loose as a body.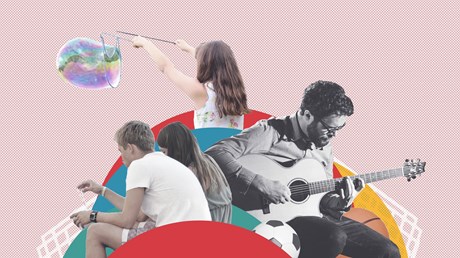 In its new Households of Faith report, Barna researchers claim that one of the many reasons "vibrant households" stand out from others is because they engage in "meaningful, fun, quality time with both their housemates and extended household members." That includes playing games together (32%), sharing meals (63% eat breakfast as a family and 75% eat dinner as a family), and enjoying other leisure activities. "These are practicing Christians who know the meaning of play—and indeed, half call their home life 'playful,'" according to the report.
In other words, the old adage still rings true: Families that play together stay together, and more than that, exhibit signs of strong spiritual health.
The same can be said of the church family.
From softball leagues to book clubs, jazz ensembles to craft nights, churches that play together seem to stay together and grow together, too, adapting more easily to upheaval and building up the camaraderie, compassion, and collective resilience that are essential to a robust church body.
"Our congregation is experiencing some growing edges as younger families begin to assume leadership roles," said Katie Nix, lead pastor at Trinity United Methodist Church in Moberly, Missouri. "Usually the generations become divided between gatekeepers and new people, but kickball helped to break down some of the walls of fear and create relationships. I believe we avoided several potential turf wars because the two groups experienced an opportunity to play together."
Other pastors, too, report the unique gains of "letting loose" as the body of Christ.
Jackson Clelland, head of staff at Presbyterian Church of the Master in …