"Girl, Stop Apologizing" strikes a chord with women. But its message of success hits the wrong note and borrows heavily from others.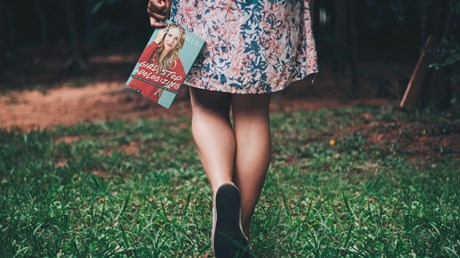 Something funny happened after I finished the new book from multimedia business mogul Rachel Hollis, best known for the massive 2018 bestseller Girl, Wash Your Face. After marking up my copy with marginalia, I nibbled at the bait: I pulled a notebook out of my desk, wrote "GOALS" on the front, and made a to-do list of accomplishments to focus on for 2019. And, wow, it felt good.
At this point, a tiny blonde woman appeared on my shoulder and said, "You go, girl!" before inviting me to attend the next RISE conference, which, okay, is sold out, but I could definitely be added to the email newsletter list and maybe get some VIP swag. I was a momentary convert to the religion of self-help—that durable American belief that with enough hard work and positive thinking, anyone can be the captain of her own destiny.
As Hollis writes in Girl, Stop Apologizing: A Shame-Free Plan for Embracing and Achieving Your Goals (HarperCollins Leadership), "you can be whoever you want to be and achieve whatever you want to achieve." It is Hollis's ode to hustle—to "the desire to work as hard as you can to chase down a goal." In three parts, with lots of practical tips and personal stories, Hollis names excuses to let go of, behaviors to adopt, and skills to acquire in order for women to get everything they want out of life.
According to the book's reassurances, it doesn't really matter what you want in life as long as you're willing to work for it. "Embracing the idea that you can want things for yourself even if nobody else understands the whys behind them is the most freeing and powerful feeling in the world," Hollis writes. As such, the book offers a …