After the Supreme Court's oral arguments, Christian legal experts weigh in on the symbol.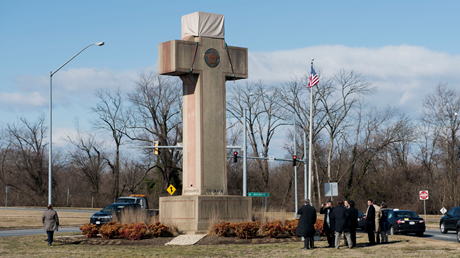 During yesterday's oral arguments, the Supreme Court suggested it would allow a 40-foot memorial cross to stay on public land, despite a challenge from an atheist group concerned that the 83-year-old World War I monument represented a government endorsement of religion.
The hour-long debate in the case of American Legion v. American Humanist Association didn't just raise the question of whether the "Peace Cross" memorial was constitutional, but also whether it was a secular symbol.
The lawyer for the Maryland parks agency that now maintains the cross—which is located in a median in the city of Bladensburg—argued before the high court that the historic marker served a secular purpose in honoring the fallen. "The easiest way to resolve this case is to say, in the wake of World War I, crosses like this one have an independent secular meaning," said Neal Katyal.
The Justice Department shared the defense, with acting solicitor general Jeffrey Wall appearing as a friend of the court. He told the justices, "To say the cross has only that religious meaning I think would condemn every cross in the public sphere."
Though the panel seemed willing to permit the historic memorial cross, the defense that the cross had become a secular symbol got little traction.
"I mean, it is the foremost symbol of Christianity, isn't it?" asked Justice Elena Kagan, who is Jewish, when Wall argued the cross could take on a secular meaning. "It invokes the central theological claim of Christianity, that Jesus Christ, the Son of God, died on the cross for humanity's sins and that he rose from the dead. This is why Christians use crosses as a way to memorialize the dead." …