Increasingly global delegation outweighs American push to shift LGBT stance, leading some progressive congregations to leave the denomination.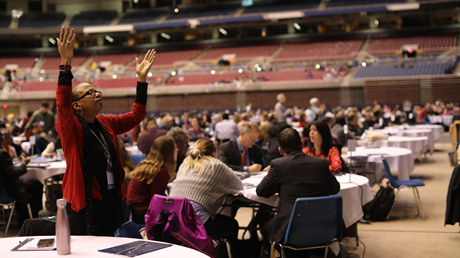 After days of passionate debate, deliberation, and prayer—and years of tension within the denomination—the United Methodist Church (UMC) voted Tuesday to maintain its traditional stance against same-sex marriage and non-celibate gay clergy, bolstered by a growing conservative contingent from Africa.
The plan passed—with 438 votes in favor and 384 against (53% to 47%)—in the final hours of a special UMC conference held this week in St. Louis to address the issue of human sexuality.
Today's vote leaves a sizable, vocal opposition, ensuring the exit of many more progressive pastors and churches in the largest mainstream Protestant body in the US.
The "Traditional Plan" preserves existing UMC positions and adds further accountability measures for those who violate them by performing same-sex ceremonies or ordaining gay clergy.
It was ultimately approved by the 800-plus delegates in the denomination's global decision-making body, though some amendments were rushed through the process to be able to vote before the conference's 6:30 p.m. deadline. Certain details may be later overturned upon Methodist judicial review.
Another holdup came over rumors of vote-buying; the delegation moved this afternoon to investigate the claims, but the ethics committee was not able to return a full report prior to the approval of the Traditional Plan.
Many of the leaders who favored a plan that would sanction greater LGBT inclusion pledged to leave if the denomination did not change its stance. "Some people will leave because of feeling attacked, unwanted, and excluded. Some churches will leave seeking safer, more accepting, and less conflictual settings in which to do their ministry," …