In the face of illness, death, and disability, Lamentations gives me a script for how to suffer.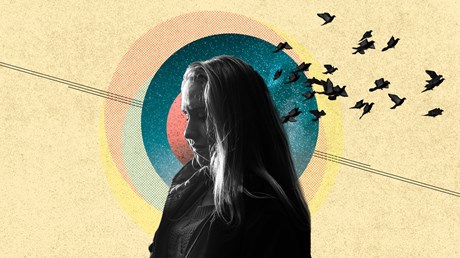 In 2015, my husband and I opened the doors to our church plant, Renewal Church. We celebrated the tremendous movement of God in our lives and our neighborhood. But the very same week, I woke up inexplicably unable to walk. I couldn't put any pressure on my legs whatsoever. I didn't know at the time that this surprising illness-visitor would become a long-term tenant.
I now experience health issues so disruptive that my husband, Kevin, on more than one occasion has had to carry me around the house. While I suffer from the physical discomfort of this mysterious illness, Kevin suffers too. He made the "in sickness" vow before God and all of our friends and family without really knowing what that might one day entail. Here it is—come to collect. Come to test if we are truly people of our vows.
As if that's not enough, there's also the unresolved search through Crater Lake, Oregon, for a loved one, my cousin and dear friend Cameron. Park rangers have found remnants, clues: a coat, broken branches on the side of a cliff, snowshoe prints near a well-traveled photo spot—a place where many hikers before him have gone and returned safely. But not Cam. We held his funeral in an airport hangar. Photos in lieu of a coffin. Unanswered questions instead of resolution.
And still this: our youngest son's developmental issues. His spinal-cord surgery and ongoing aftercare. His life-threatening allergies. Weeks at the local children's hospital, months of therapy.
During this season of pain and loss, there's a voice in my head—some combination of pastor, parent, and professor—that says I need to handle this suffering and handle it well. Learn whatever lesson God is trying …