FOR IMMEDIATE RELEASE
COLORADO SPRINGS, Colo. – The College Swimming and Diving Coaches Association of America (CSCAA) has selected a record 713 teams from 460 institutions to the Scholar All-America Team for the Fall 2018 semester. Both the Nova Southeastern University men's and women's swimming teams found their names on the distinguished list. The women's team finished the fall with a 3.50 grade point average, while the men's team finished with a 3.25.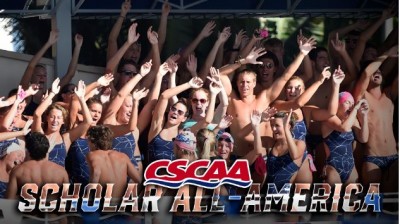 To earn the honor, teams were required to post a GPA of 3.0 or higher for the Fall Semester and maintain a roster of 12 or more student-athletes. The teams were selected by the CSCAA's Scholar All-America committee on the basis of their Fall grade point averages and represent 16,502 student-athletes.
Another CSCAA Scholar All-America team will be announced at the conclusion of the spring semester, where individual student-athletes will also be recognized.
To view a full list of the schools recognized, CLICK HERE.
# # #
Be sure to sign up for NSU's RSS feed so you don't miss any of our news releases, guest editorials and other announcements. Please sign up HERE.
About Nova Southeastern University (NSU): Located in beautiful Fort Lauderdale, Florida, NSU is ranked among U.S. News & World Report's Top 200 National Research Universities and is a dynamic, private research university providing high-quality educational and research programs at the undergraduate, graduate, and first-professional degree levels. Established in 1964, NSU now includes 16 colleges, the 215,000-square-foot Center for Collaborative Research, a private JK-12 grade school, the Mailman Segal Center for Human Development with specialists in Autism, the world-class NSU Art Museum Fort Lauderdale, and the Alvin Sherman Library, Research and Information Technology Center, which is Florida's largest public library. NSU has campuses in Fort Lauderdale, Fort Myers, Jacksonville, Miami, Miramar, Orlando, Palm Beach, and Tampa, Florida, as well as San Juan, Puerto Rico, while maintaining a presence online globally. Classified as a research university with "high research activity" by the Carnegie Foundation for the Advancement of Teaching, NSU is one of only 50 universities nationwide to also be awarded Carnegie's Community Engagement Classification, and is also the largest private institution in the United States that meets the U.S. Department of Education's criteria as a Hispanic-serving Institution. For more information, please visit http://www.nova.edu/.
January 30, 2019
Media Contact
Tasha Yohan
954-262-2172
tyohan@nova.edu
---
---