Percentage of Sales To Benefit Sea Turtle Education & Research Center
FOR IMMEDIATE RELEASE
FORT LAUDERDALE/DAVIE, Fla. –  When you hear "South Florida," one of the first images that pops into your head is of the beach and the ocean – you can't think of one without the other. The relationship between the South Florida community and its beaches and the ocean is undeniable – from an economic, destination and research standpoint.
To that end, Nova Southeastern University's (NSU) Marine Environmental Education Center (MEEC) at the Carpenter House is dedicated to understanding and protecting one of the ocean's most beloved creatures – the sea turtle. As part of its mission,  MEEC staff interact with visitors year-round educating them about these majestic animals, and part of those efforts include the center's "forever" resident green sea turtle, Captain.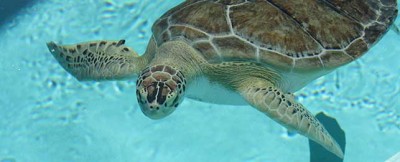 She calls the MEEC home as she was injured in the wild and is unable to be returned to the open ocean. And it is Captain who has inspired a local artist's latest gallery exhibit: "Captain is Hollywood" by artist Maria Isabel Lazo.
The exhibit is featured at ArtsPark at Young Circle Gallery, located at 1 N. Young Cir., Hollywood and is scheduled from January 23 through March 17, 2019. Because of her love of the ocean and involvement at the MEEC, Lazo has created various artworks that are for sale, with a percentage of the proceeds going to the education center.
"We are very thankful for Maria Isabel Lazo's involvement with the MEEC and her steadfast support of our mission," said Derek Burkholder, Ph.D., the director of the Broward County Sea Turtle Conservation Program and the Marine Environmental Education Center at the Carpenter House.
Along with the month's-long showing, an artist's reception will be held from 6-9 p.m. Thursday, February 21 at the Gallery. Conservation "Talks" will be given throughout the exhibit.
The exhibit and the artist's reception are free and open to the general public.
The exhibit consists of a series of original acrylic and oil paintings of marine, mangrove and tropical art work. The day of the reception, artwork created from recycled lobster trap wood will be on display as well.
The MEEC was fostered from a partnership between Broward County Parks and Recreation and NSU. It educates South Florida residents and visitors alike of the need to conserve and protect our marine and coastal environments. This artistic effort grew from the eagerness to unite art with conservation issues.
Be sure to sign up for NSU's RSS feed so you don't miss any of our news releases, guest editorials and other announcements. Please sign up HERE.
###
About Nova Southeastern University (NSU): Located in beautiful Fort Lauderdale, Florida, NSU is ranked among U.S. News & World Report's Top 200 National Research Universities and is a dynamic, private research university providing high-quality educational and research programs at the undergraduate, graduate, and first-professional degree levels. Established in 1964, NSU now includes 16 colleges, the 215,000-square-foot Center for Collaborative Research, a private JK-12 grade school, the Mailman Segal Center for Human Development with specialists in Autism, the world-class NSU Art Museum Fort Lauderdale, and the Alvin Sherman Library, Research and Information Technology Center, which is Florida's largest public library. NSU has campuses in Fort Lauderdale, Fort Myers, Jacksonville, Miami, Miramar, Orlando, Palm Beach, and Tampa, Florida, as well as San Juan, Puerto Rico, while maintaining a presence online globally. Classified as a research university with "high research activity" by the Carnegie Foundation for the Advancement of Teaching, NSU is one of only 50 universities nationwide to also be awarded Carnegie's Community Engagement Classification, and is also the largest private institution in the United States that meets the U.S. Department of Education's criteria as a Hispanic-serving Institution. For more information, please visit www.nova.edu.
About the Marine Environmental Education Center (MEEC): The center was opened with the desire to educate and delight locals and tourists alike through our "forever ambassador" green sea turtle, Captain, and the splendor of the coastal environment of South Florida. The MEEC was fostered from a partnership between Broward County Parks and Recreation and NSU, and is located on the historic grounds of the Carpenter House at Hollywood North Beach Park in Hollywood, FL. Along with Captain, the site features an interactive Interpretive Center with displays ranging on topics from sea turtle conservation to marine debris. Additionally, the center offers programs for the public on various coastal ecology and sea turtle topics, as well as programming specifically for school groups with a curriculum tailored to the marine sciences. For more information, please visit nova.edu/MEEC
MEDIA CONTACT
Joe Donzelli | Office of Media Relations
Nova Southeastern University
954-262-2159 (office) | 954-661-4571 (cell)
jdonzelli@nova.edu | www.nova.edu | @NSU_Joe
---
---