By wlchrist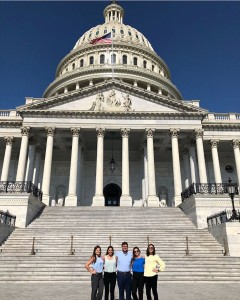 From left are Lisa Grovenstein, B.S., Rachel Kansky, B.S., Jonathon Lawrence, B.S., Ali Silverman, B.S., and Brianna Milke, B.A.
On Friday, May 11, 2018, five Nova Southeastern University (NSU) Au.D. students and three faculty members, Erica Friedland, Au.D., chair and associate professor, Patricia Gaffney, Au.D., associate professor, and Alyssa Needleman, Ph.D., clinic director and associate professor, traveled to Capitol Hill to voice their effectiveness to healthcare.
Each year, the NSU's Student Academy of Audiology (SAA) helps send students to Washington, D.C. to advocate for the profession of audiology and raise awareness for current legislation affecting the field. This is the fourth consecutive year NSU's SAA has contributed to student advocacy.
This year's small group of dedicated students represented Florida, New Jersey, and Nevada. It was their first time attending. The SAA chapter at NSU strongly believes that promoting hearing health, spreading healthcare awareness, and participating in advocacy opportunities are necessary to become more involved. The doctoral students had a great time expressing their voices for their future profession.
To ensure NSU would have a strong voice on the Hill, NSU's SAA Government Relations Chair, Rachel Kansky, coordinated with Adam Finkel and Becky West, members of the American Academy of Audiology's Government Relations department. Finkel …read more
Source:: NSU News