By Ed Stetzer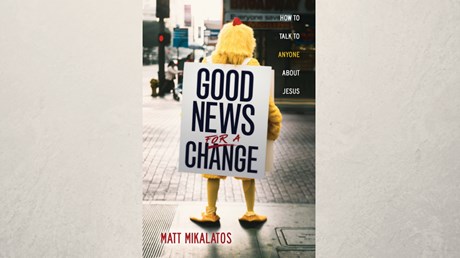 If gospel really means "good news," we shouldn't be surprised that most people will be delighted to talk about it.
One-On-One with Matt Mikalatos on Good News for a Change
Ed: You start your new evangelism book, Good News for a Change, by suggesting we've forgotten that gospel means "good news." Why is that?
Matt: Once when I was in college, a complete stranger knocked on my dorm room door. As he stood in the hallway, his first words were, "You need to stop smoking pot, stop sleeping with your girlfriend, and come to Jesus." It took me ten minutes to convince him I had never smoked weed and that my girlfriend lived eight hours away. Finally, I said, "I'm already a Christian." He threw his arms around me and shouted, "Brother!"
Sometimes, we're afraid to talk about Jesus because we're thinking of it like that . . . I have to tell my friends a laundry list of their sins, and then say, "Come to Jesus." We know our friends won't like it because that way of talking about the gospel makes it easy to miss the good news.
Ed: Let's talk about that fear for a moment. I wrote recently about how …read more
Source:: Christianity Today