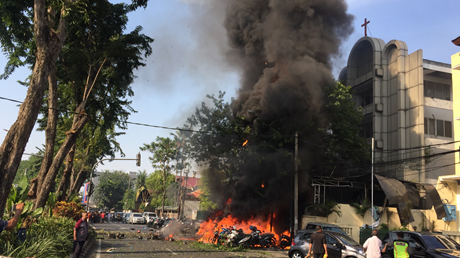 Christians outraged at "heinous and gory" terrorist attacks that killed and injured dozens of worshipers Sunday morning.
Suicide bombers launched coordinated attacks on three Indonesian churches during worship services this morning, leaving more than a dozen people dead and at least 40 more injured in a series of bloody blasts that horrified the country's Christian minority and Muslim majority alike.
Diponegoro Indonesian Christian Church (GKI), Surabaya Center Pentecostal Church, and Santa Maria Tak Bercela Catholic Church—all in Surabaya, the second-largest city in the island-chain nation—suffered bombings carried out by six members of the same family, who are believed to be affiliated with Jamaah Ansharut Daulah (JAD), an Indonesian terrorist cell aligned with ISIS.
Sunday's bombings mark the deadliest terrorist attack in the world's biggest Muslim country since the Bali bombings that killed more than 200 people in 2002.
The current death toll includes at least seven worshipers, plus the six family members who conducted the terror plot. Indonesian police told the Associated Press that within minutes, the father exploded a car bomb into one church building; two teenage sons on motorcycles drove into another; and the mother with two daughters, aged 12 and 9, wore explosives at the third, setting them …read more
Source:: Christianity Today