By wlchrist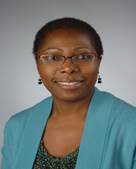 Bertha Kadenyi Amisas, Ph.D.
NSU's College of Arts, Humanities, and Social Sciences (CAHSS) will again host the CAHSS Intellectual Conversations on Thursday, March 22, 2018. The series topic this academic year is "Resistance." This next Intellectual Conversation will feature Bertha Kadenyi Amisas, Ph.D., faculty in the Department of Conflict Resolution Studies (DCRS), in CAHSS. Her conversation is entitled, "The Music of Peace: Sounds of Protest, Healing, and Reconciliation."
This presentation is about music's relationship to conflict resolution practice. Music, as the creation of pleasingly harmonious sounds, features in people's search for peaceful resolution of violent conflict. Music also accompanies nonviolent action for social justice, an important quality of peaceful societies. I draw on my personal and work experience in societies affected by violent conflict to explore music's power in service of peace and social justice. Music empowers people's resistance to war, injustice and oppression. Music also empowers people's healing from war's impact. We need to pay more attention to music's important contribution to the struggle for peace and just societies.
The event will take place from 12:00-1:00pm on Thursday, March 22, 2018 in DeSantis, Room #5026. It is free and open to the public.
Source:: NSU News