By wlchrist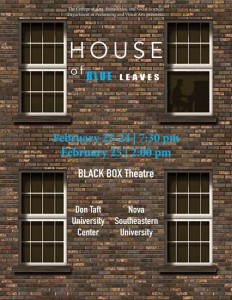 NSU's College of Arts, Humanities, and Social Sciences (CAHSS) is delighted to invite you to come and enjoy the play, House of Blue Leaves in the Black Box Theatre in the Don Taft University Center on February 23-25, 2018.
This dark comedy, written by playwright John Guare, features character Artie Shaughnessy, zookeeper by day and songwriter/musician by night, his wife Bananas, his mistress Bunny, other amazing characters, and a visit by the Pope to the city! Come and enjoy this fabulous play brought to you by the Department of Performing and Visual Arts (DPVA).
Performances will be on Friday, February 23 and Saturday, February 24 at 7:30pm and on Sunday, February 25 at 2:00pm. Tickets are required and may be purchased online at https://web.ovationtix.com/trs/pr/977924 or at the Box Office. For more information, please call 954-262-7632.
Source:: NSU News