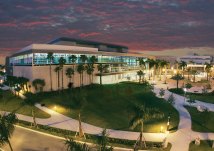 FORT LAUDERDALE/DAVIE, Fla.– U.S. News & World Report ranked Nova Southeastern University (NSU) within their 2018 list of top 200 "Best Colleges". NSU is officially ranked at number 198 for National Universities (up 16 spots from 2017). This is the second time this year that the university was ranked by U.S. News and World Report. In January, the magazine recognized three NSU online programs. NSU's Criminal Justice graduate program was ranked 26th out of 41 programs; its Education graduate program was 84th out of approximately 200 (up 11 spots); and its Nursing graduate program was 47th out of more than 100 ranked programs (up two spots).
"We are extremely proud to be listed in U.S. News & World Report's top 200 Best Colleges. These rankings show that we're recognized as a premier, private, not-for-profit university of quality and distinction," said NSU's President Dr. George Hanbury.
The U.S. News rankings are based on several key measures of quality including graduation and retention rates, assessment of excellence and student selectivity. Scores for each measure are weighted to arrive at a final overall score.
NSU has also made the list for A-plus schools for B students for the first time.
U.S. News & World Report screened colleges …read more
Source:: NSU News