By jdonzelli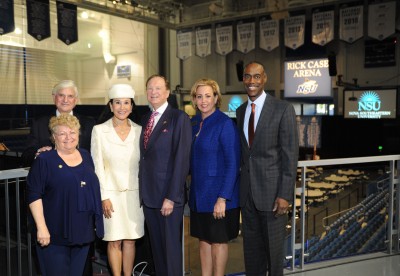 FOR IMMEDIATE RELEASE
FORT LAUDERDALE/DAVIE, Fla. – Nova Southeastern University (NSU) officially named their recreational arena in honor of community leader and automobile dealer, Rick Case at a special ceremony on January 19, 2017. The arena is located at the Don Taft University Center, an active multipurpose facility focused on student programs and services, located in the heart of NSU's Fort Lauderdale/Davie campus.
(L to R) Dr. George L. Hanbury, NSU President & CEO; Judy Paul, Mayor of the Town of Davie; Rita and Rick Case, Honorees; Dr. Jennifer O'Flannery Anderson, Vice President of Advancement and Community Relations; Robert Runcie, Broward County Schools Superintendent
Rita and Rick Case's gift to NSU established a scholarship endowment to attract outstanding undergraduate students as part of Realizing Potential, NSU's first comprehensive fundraising campaign. This is the largest philanthropic campaign in the university's history which aims to raise $250 million for students, faculty, and 21st century education. The naming of the arena is in honor of the Cases' gift and ongoing support of NSU.
"For more than 15 years, NSU has benefited from the organizational and entrepreneurial skills of Rita and Rick Case," said Dr. George Hanbury, NSU's President. …read more
Source:: NSU News